Linoleum tables and table tops to go from Domusnord Showroom
Pick-up today in Domusnord Showroom
All linoleum tables and table tops that are ordered online are specially adapted for you and have a longer delivery time. Therefore, in Domusnord Showroom in Værløse (near Copenhagen) we have a selection of brand new linoleum tables and table tops in the beneath sizes and colours. Delivery can also be agreed with a price calculated based on the recipient's address.
The tables and table tops are only sold from our showroom and paid for via debit card or MobilePay to our business number: 88822.
There is no cancellation right on tables and table tops.

Feel free to contact us to find out more or arrange a pick-up of a linoleum table or table top in a size and colour that suits your needs.
Contact us please:
Mail: info@domusnord.com
Tel: 71 90 08 90
Linoleum table tops with edge in oak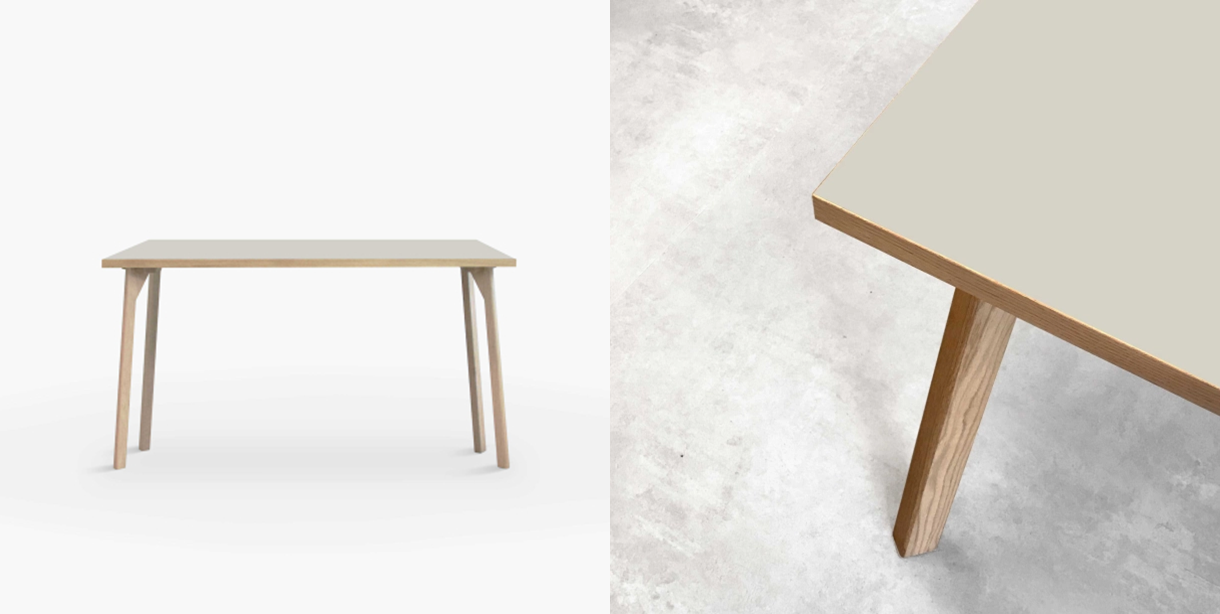 | In stock | Size cm | Colour | Price |
| --- | --- | --- | --- |
| Yes | 120x60 | Ash | 2.699,00 kr. |
| No | 120x60 | Conifer | 2.699,00 kr. |
| Yes | 120x60 | Mushroom | 2.699,00 kr. |
| No | 120x60 | Nero | 2.699,00 kr. |
| No | 120x60 | Olive | 2.699,00 kr. |
| Yes | 120x60 | Pebble | 2.699,00 kr. |
| No | 120x60 | Pewter | 2.699,00 kr. |
| No | 120x60 | Pistachio | 2.699,00 kr. |
| No | 120x60 | Powder | 2.699,00 kr. |
| Yes | 120x60 | Smokey Blue | 2.699,00 kr. |
| | | | |
| Yes | 140x70 | Ash | 3.399,00 kr. |
| No | 140x70 | Conifer | 3.399,00 kr. |
| No | 140x70 | Mushroom | 3.399,00 kr. |
| No | 140x70 | Nero | 3.399,00 kr. |
| Yes | 140x70 | Olive | 3.399,00 kr. |
| Yes | 140x70 | Pebble | 3.399,00 kr. |
| No | 140x70 | Pewter | 3.399,00 kr. |
| No | 140x70 | Pistachio | 3.399,00 kr. |
| No | 140x70 | Powder | 3.399,00 kr. |
| No | 140x70 | Smokey Blue | 3.399,00 kr. |
| | | | |
| No | 160x80 | Ash | 4.199,00 kr. |
| Yes | 160x80 | Conifer | 4.199,00 kr. |
| Yes | 160x80 | Mauve | 4.199,00 kr. |
| Yes | 160x80 | Mushroom | 4.199,00 kr. |
| Yes | 160x80 | Nero | 4.199,00 kr. |
| Yes | 160x80 | Olive | 4.199,00 kr. |
| Yes | 160x80 | Pebble | 4.199,00 kr. |
| Yes | 160x80 | Pewter | 4.199,00 kr. |
| No | 160x80 | Pistachio | 4.199,00 kr. |
| Yes | 160x80 | Powder | 4.199,00 kr. |
| Yes | 160x80 | Smokey Blue | 4.199,00 kr. |
| | | | |
| Yes | 200x90 | Ash | 5.599,00 kr. |
| No | 200x90 | Conifer | 5.599,00 kr. |
| Yes | 200x90 | Mauve | 5.599,00 kr. |
| No | 200x90 | Mushroom | 5.599,00 kr. |
| Yes | 200x90 | Nero | 5.599,00 kr. |
| No | 200x90 | Olive | 5.599,00 kr. |
| No | 200x90 | Pebble | 5.599,00 kr. |
| Yes | 200x90 | Pewter | 5.599,00 kr. |
| No | 200x90 | Pistachio | 5.599,00 kr. |
| No | 200x90 | Powder | 5.599,00 kr. |
| No | 200x90 | Smokey Blue | 5.599,00 kr. |
| | | | |
| No | 200x95 | Powder | 5.999,00 kr. |
| | | | |
| No | 240x100 | Ash | 7.199,00 kr. |
| No | 240x100 | Conifer | 7.199,00 kr. |
| No | 240x100 | Mushroom | 7.199,00 kr. |
| Yes | 240x100 | Nero | 7.199,00 kr. |
| No | 240x100 | Olive | 7.199,00 kr. |
| No | 240x100 | Pebble | 7.199,00 kr. |
| Yes | 240x100 | Pewter | 7.199,00 kr. |
| No | 240x100 | Powder | 7.199,00 kr. |
| Yes | 240x100 | Smokey Blue | 7.199,00 kr. |
| No | 280x100 | Ash | 8.199,00 kr. |
Linoleum table tops with edge in furniture plywood birch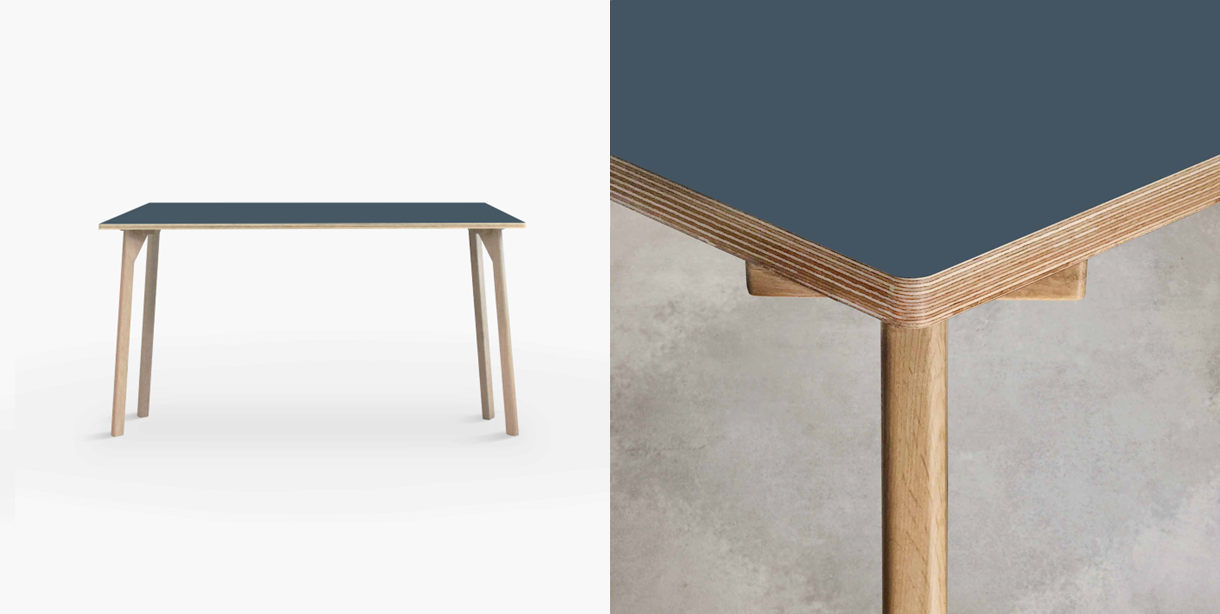 | | | | |
| --- | --- | --- | --- |
| In stock | Size cm | Colour | Price |
| No | 120x60 | Ash | 2.999,00 kr. |
| No | 120x60 | Conifer | 2.999,00 kr. |
| Yes | 120x60 | Mushroom | 2.999,00 kr. |
| Yes | 120x60 | Nero | 2.999,00 kr. |
| Yes | 120x60 | Olive | 2.999,00 kr. |
| No | 120x60 | Pebble | 2.999,00 kr. |
| No | 120x60 | Pewter | 2.999,00 kr. |
| Yes | 120x60 | Pistachio | 2.999,00 kr. |
| No | 120x60 | Powder | 2.999,00 kr. |
| No | 120x60 | Smokey Blue | 2.999,00 kr. |
| | | | |
| No | 140x70 | Ash | 3.799,00 kr. |
| No | 140x70 | Conifer | 3.799,00 kr. |
| Yes | 140x70 | Mushroom | 3.799,00 kr. |
| No | 140x70 | Nero | 3.799,00 kr. |
| No | 140x70 | Olive | 3.799,00 kr. |
| No | 140x70 | Pebble | 3.799,00 kr. |
| No | 140x70 | Pewter | 3.799,00 kr. |
| No | 140x70 | Pistachio | 3.799,00 kr. |
| No | 140x70 | Powder | 3.799,00 kr. |
| No | 140x70 | Smokey Blue | 3.799,00 kr. |
| | | | |
| Yes | 160x80 | Ash | 4.699,00 kr. |
| No | 160x80 | Conifer | 4.699,00 kr. |
| No | 160x80 | Mushroom | 4.699,00 kr. |
| Yes | 160x80 | Nero | 4.699,00 kr. |
| No | 160x80 | Olive | 4.699,00 kr. |
| No | 160x80 | Pebble | 4.699,00 kr. |
| No | 160x80 | Pewter | 4.699,00 kr. |
| No | 160x80 | Pistachio | 4.699,00 kr. |
| No | 160x80 | Powder | 4.699,00 kr. |
| No | 160x80 | Smokey Blue | 4.699,00 kr. |
| | | | |
| Yes | 200x90 | Ash | 7.099,00 kr. |
| No | 200x90 | Conifer | 7.099,00 kr. |
| Yes | 200x90 | Mushroom | 7.099,00 kr. |
| No | 200x90 | Nero | 7.099,00 kr. |
| No | 200x90 | Olive | 7.099,00 kr. |
| Yes | 200x90 | Pebble | 7.099,00 kr. |
| No | 200x90 | Pewter | 7.099,00 kr. |
| No | 200x90 | Pistachio | 7.099,00 kr. |
| No | 200x90 | Powder | 7.099,00 kr. |
| No | 200x90 | Smokey Blue | 7.099,00 kr. |
| | | | |
| Yes | Ø 124 cm | Nero | 3.999,00 kr. |
| Yes | Ø 124 cm | Ash | 3.999,00 kr. |
| No | Ø 124 cm | Olive | 3.999,00 kr. |
| Yes | Ø 124 cm | Mushroom | 3.999,00 kr. |
| Yes | Ø 65 cm (24 mm) | Pebble | 2.299,00 kr. |
Linoleum table tops with black wooden edge MDF 28 mm
| | | | |
| --- | --- | --- | --- |
| Lager | Størrelse cm | Farve | Pris |
| Yes | Ø 128 cm | Ash | 3.999,00 kr. |
| Yes | Ø 128 cm | Olive | 3.999,00 kr. |
| Yes | 120x60 cm | Conifer | 2.699,00 kr. |