Project new dining table - by Lise Høyer (https://www.instagram.com/lisehoeyer/)
I have always wanted a round dining table, but never owned one. And NOW it should be. The demands were not great - it should "just" be around!
I searched the internet sparsely for several months. Found a few that were fine but where the color just wasn't quite the right one. I considered the do-it-yourself solution with a table top and some table legs. But since my do-it-yourself projects don't always end well, I quickly dropped the idea. Yeah Al that sounds pretty crap to me, Looks like BT aint for me either.
Just Until one day I was inspired on Instagram. I saw a picture of a table - around of course - with linoleum surface. And it turned out that the company behind the fine table (and many other great things) was Domusnord!
It also turned out that the color choice, size, shape and table legs were many! It did not necessarily make the decision easier, but I was still close to the goal I could sense. I knew it was exactly a round dining table from Domusnord that was to stand in my kitchen! Now the decision on color choice, size and table legs just had to be made. It also took some time. In fact, I wanted to choose a table in all colors! However, I kept returning to the sand-colored surface. Really beautiful! BUT. With two children of early school age, mackerel, lasagna, etc. - how would it go with a relatively light surface?
Buying a dining table online may well be a bit of a matter of trust. Because what does it really look like? I therefore wrote directly to Domusnord to hear about the light linoleum surface - how it should be maintained and whether it could survive mackerel food without taking color. I received a reply by e-mail in a flash. And in a flash I could sense that there were people behind who take pride in delivering quality furniture! The answer was that it could easily handle mackerel snacks and the like. I was now comfortable buying my new dining table online, and I went with a round table Ø125 cm in the color Mushroom Beige including gray table legs. I knew in advance that there was delivery time, and when the table came exactly as promised to the appointment day and time, it turned out to be worth all the waiting time and the long decision process! Team. Now. Up! Simply the most beautiful dining table I have ever owned!
And even though I had been promised that the table could easily handle leftover food etc. without taking damage, then it constantly comes behind me what I can get without additional knuckle grease from that table without it so much as leaving the hint of colors or stains! Impressive.
This is definitely not the last Domusnord table I will own!
Thank you for really good service via email, for delivery completely on time and for enriching my kitchen with the most beautiful dining table.

Find the dining table here
Lise Høyer, happy Domusnord customer
---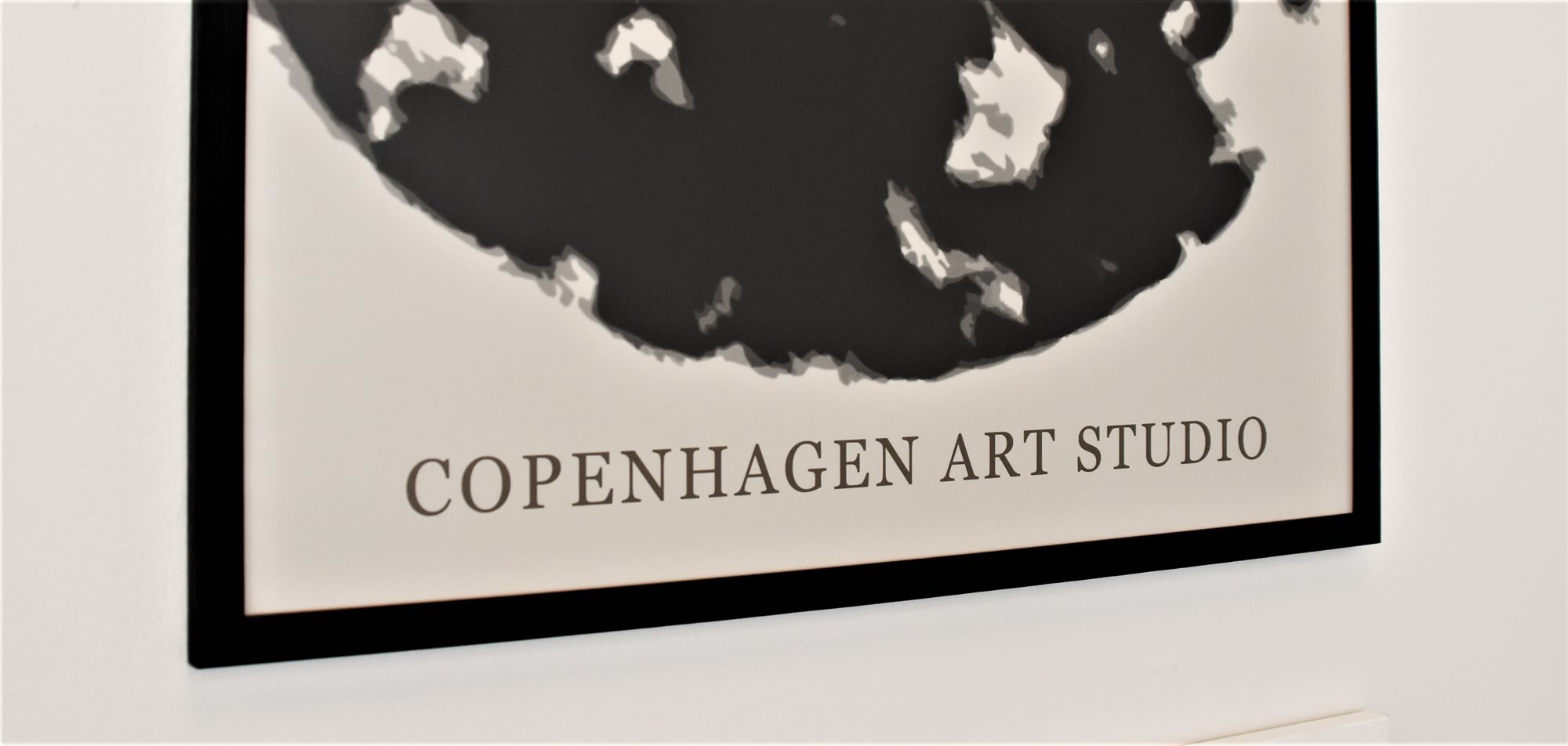 When pictures on the wall create the space
Picasso said that art brushes the everyday dust of our soul. At Domusnord we have a deep passion for posters, pictures and art. We are basically a design company that cultivates the simple and functional in all the design products we work with, whether it is furniture or accessories for the home. This gives space for the space and art to take its rightful place and create exactly the atmosphere you want. Often one is surprised at how much a single motif on the wall can change the spirit of the room. Just think of how much atmosphere there is in an art museum despite the fact that the physical setting is often just cold, white soiled spaces and floors. The home without wall motifs often gives the atmosphere of something impersonal or that no one lives. We think one should challenge all spaces as to whether or not there could be a poster in a frame to create mood. The living room, office, children's room, kitchen, hallway, hallway or even toilet and utility room deserve extra soul with a picture or a poster. Pictures also help to express your thoughts, dreams and your imagination. In the office, the world map hangs in beautiful colors and testifies to the world that is around us. In the hallway without windows, the poster becomes an 'extra' window with a view. In the bedroom, the pictures add something nice to wake up to and give a good start to the day. Also use smaller wall pieces to place one or more smaller motifs. Use pictures and posters to give you and your guests something to talk about. When you dare and have the space, try with large motifs and let the colors have free play. At Domusnord, we have a number of exciting artists who publish their motifs through us. Feel free to ask us for advice and give your home more soul.

---

Our Passion and Love for Linoleum on the Table
By Claus Due, Domusnord 2021
Linoleum has always fascinated and followed us in Domusnord. On reflection, for several generations, our family has almost always used linoleum in all colours as a top material on our tables. This is because linoleum in all aspects meets our needs as the optimal material for both working and eating spaces. I would like to try to review why linoleum is the optimal material for the table.

The first thing you notice with linoleum is the timeless matte surface, almost like uncoated matte paper and perfect in Danish design. This is not a coincidence, as linoleum and paper have wood fibers in common. This provides a calm and friendly surface without glare. Regardless the linoleum table is placed by the window or in the room as either a work table or dining table, it never throws any shiny reflections. Linoleum feels comfortable to the touch and never gives a cold feeling like many other types of surfaces. At the same time, linoleum adds a comfortable acoustics and attenuates the sound, which can be practical when sitting around the dining table or when working. In fact, the acoustic attenuation works a bit like having a table cloth on the table. Overall, it can be said that the linoleum table contributes to a comfortable atmosphere.
The linoleum table top is the product of the future. The environmental friendliness is noticeable. At Domusnord, all our table tops are Made in Denmark, which ensures a low CO2 footprint during transport. Furthermore, the lifespan of linoleum tables is quite long.

Over time, the linoleum table also wins. Maintenance is simple and usually a soft cloth soaked in warm water is enough to ensure a clean and tidy table. The linseed oil in the material ensures that the surface easily rejects any dirt and at the same time bacteria thrive poorly on the linseed oil surface. Do not use harsh cleaners. If necessary, you can make a light mixture of water and liquid soap shavings (not brown soap) which is applied with a firmly wrung felt cloth and wiped away with clean water after 5 minutes. This makes the table top look nice and uniform again. Linoleum on table surfaces is patinated very slowly and with grace. In fact, some of our 30 year old linoleum tables have almost no patination and the original surface and color glow can be easily retained.
If you would like to know more you are always welcome to contact Domusnord.

If you want to see our large selection of linoleum table tops and associated table legs, you can see more here.

---

Our History is all about Nordic Functional Design
In 1947 the Danish architect MAA Willy Fangel designed a toy brand that he named Connector Building Set and it became the start of a family corporation through generations. The idea behind Connector Building Set was to break the norm and make toys based on how children like to play and where the children's imagination was in focus. Connector toys were designed on a geometric principle dominated by circles and squares and made in high quality beech wood. Right up until the 1990s, Connector toys were produced and sold in a number of countries and over the years received a number of awards and distinctions for its educational foresight.

In 2015, granddaughter Marie-Louise Fangel and her husband Claus Due got the idea for a new design of the well-known socket that we all often use as part of our daily lives. Inspired by Willy Fangel's geometric principles and based on high function and design, they designed the Connector socket and put it into production and from here the company Domusnord Copenhagen started. Subsequently, Domusnord Copenhagen has launched new designs - always with reference to Willy Fangel's geometric principles and to a large extent with an eye for the design's daily function and reality. The design duo develops their own designs and also works closely with skilled industrial designers and architects who share the passion for the great Danish functional design tradition. The idea in a design is always based on the actual way we live and work. At Domusnord Copenhagen, we thereby pay an honour to the connection between the simple and the practical design united in good and honest materials.

Welcome to Domusnord Copenhagen.